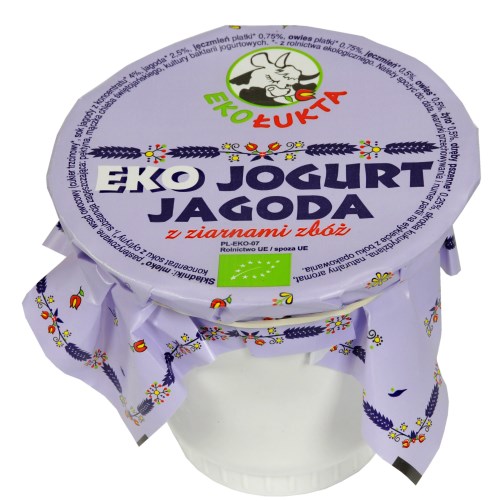 Blueberry Yoghurt with cereal-grains ECO

Blueberry yoghurt with cereal grains is a wonderful composition based on natural yoghurt. Fruits and grains full of vitamins, minerals and fiber support the digestive system. Yoghurt is perfect for breakfast and as a valuable, tasty and healthy snack providing strength and vitality. It contains 3.0% of fat. A light meal with the taste and aroma of added fruit gives a sense of fullness without feeling "heaviness".
Ingredients: milk* pasteurized, fruit feed (cane sugar *, blueberry juice concentrate* 4%, blueberry * 2,5%, barley flakes * 0.75%, oat flakes * 0.75%, barley * 0.5%, oat * 0.5%, rye * 0.5%, wheat bran * 0.25%, corn starch, natural flavors, lemon juice concentrate *), thickening agent: pectin, locust bean gum, cultures of yoghurt bacteria.
*- from organic farming.
  Nutrition value in 100 product grams:
  Nutrition value
  432 kJ/103 kcal
  Fats
  3,0 g
  including saturatedfatty acids
  1,8 g
  Carbohydrates
  16,1 g
  including sugars
  14,6 g
  Protein
  2,8 g
  Salt
  0,1 g